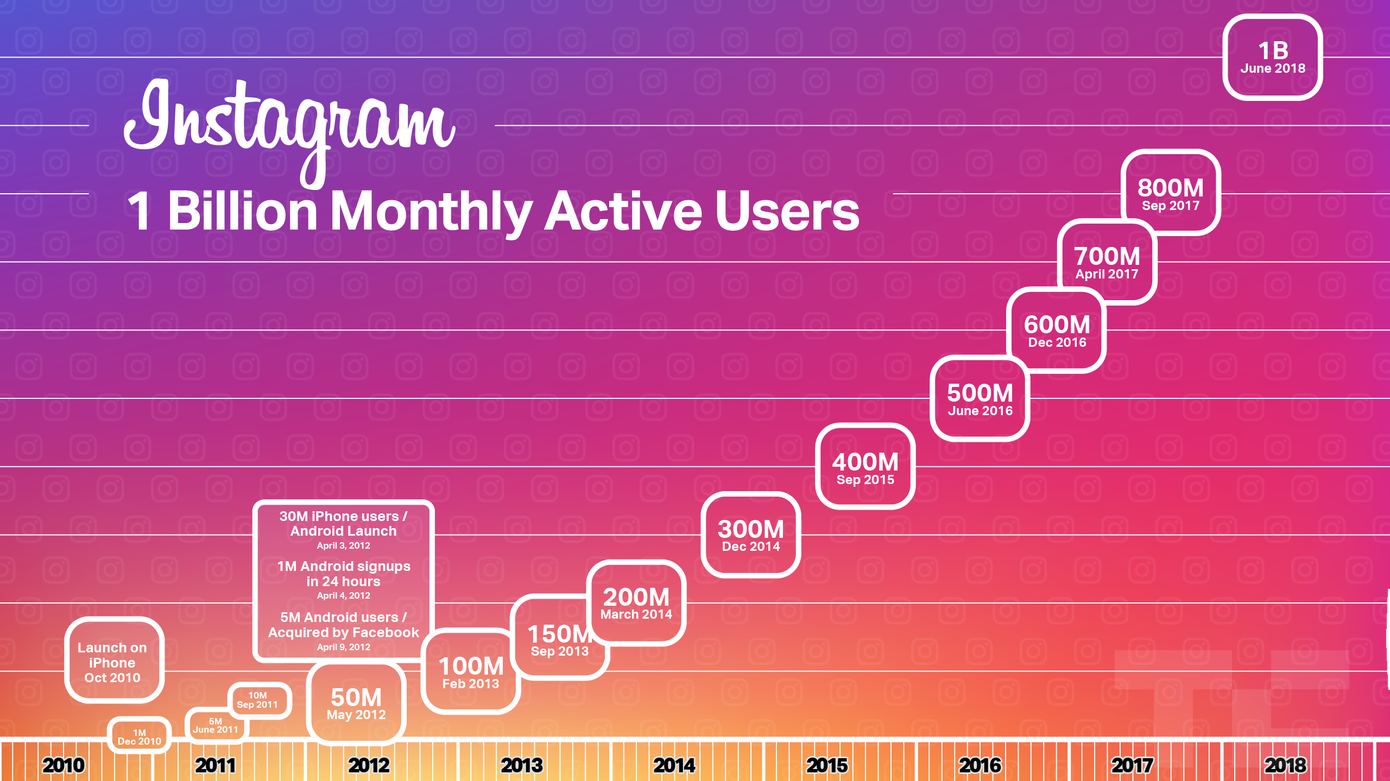 Instagram is undoubtedly and would continue to be one of the most important social media and marketing platforms of our time. In June 2018, Instagram reached a billion monthly users. This growth, as seen on this image from Tech Crunch, shows a user base upped by 200 million from 800 million in September 2017.
Launched as only a photo sharing site in 2010, Instagram has quickly grown to be a great medium for paid advertising, content marketing and communication for both personal and business users. Instagram has the potential to drive unbelievable engagement that opens avenue for a more intimate brand-customer relationship, business and sales conversion as well as brand image and popularity. Throughout 2018, Instagram consistently demonstrated why it is the platform to rule. Today, we compile 6 research-backed trends that will rule the platform in 2019 and how you can ride this wave to do more with Instagram this year. Here we go!
IGTV and Vertical Video
Announced in June 2018, Instagram TV, IGTV is a new video platform within Instagram designed specifically for mobile devices and smartphone users. IGTV has quickly picked up traction and has already been likened to YouTube by the likes of Plannable's Vlad Callus, who said the platform could become the next YouTube in some 3 to 5 years' time. But IGTV is radically different from YouTube. While Google's video platform incorporates a plethora of function and works for full scale HD, 4K and wider aspect ratio video streaming, IGTV is exclusively for vertical videos. IGTV chose vertical videos because most users access the platform from their mobile. IGTV thus seeks to connect content producers and marketers with a mobile-only audience as people are already most likely to use their mobile devices in such position. Popular brand such as Rihanna's Fenty Beauty use IGTV to share makeup tutorials, while Silk City and Dua Lipa have a vertical video for their song Electricity. If you're looking to up your engagement and communicate more with your audience this year, IGTV is one of the places you will want to be.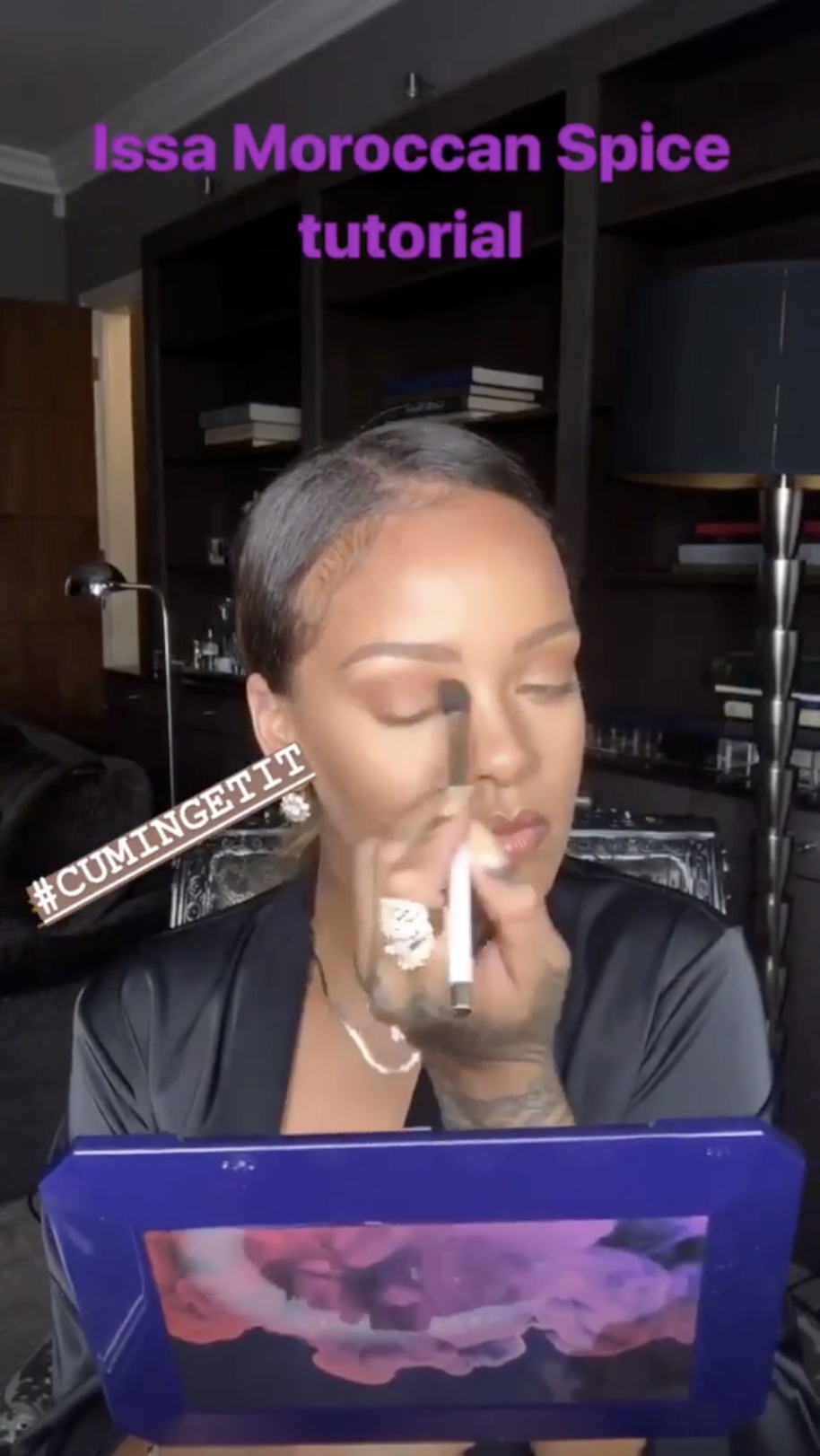 Influencers get real life brand experiences
Since Instagram is a highly visual platform, it should come as no surprise that Fashion and Beauty industries have the highest engagements. According to Plannthat.com, the 5 most followed fashion brands include Chanel, Louis Vuitton, Gucci, Victoria Beckham and Christian Dior. Another less surprising fact is that most of these brands have, in recent years, been propelled by the power of influencer marketing. In 2018, we noticed how top brands benefitted and rewarded top influencers for their efforts. This year, we can anticipate a continuation of the 2018 trend where brands create buzz and talkability online to lead to a delicious offline event. Since influencers have so much influence (LOL), you can expect many brands to take it a step further by inviting top influencers to some exclusive events where they get to experience the brand and create Instagram videos for their audience to see. From private trips, to shopping sprees and fashion events, we expect to see Influencers go from just recommending a brand to sharing their experiences of the brand or other luxury experiences courtesy of the brand. If you are going to make significant impact to connect to your ready-to-spend customers, you will need to strengthen your influencer marketing funnel.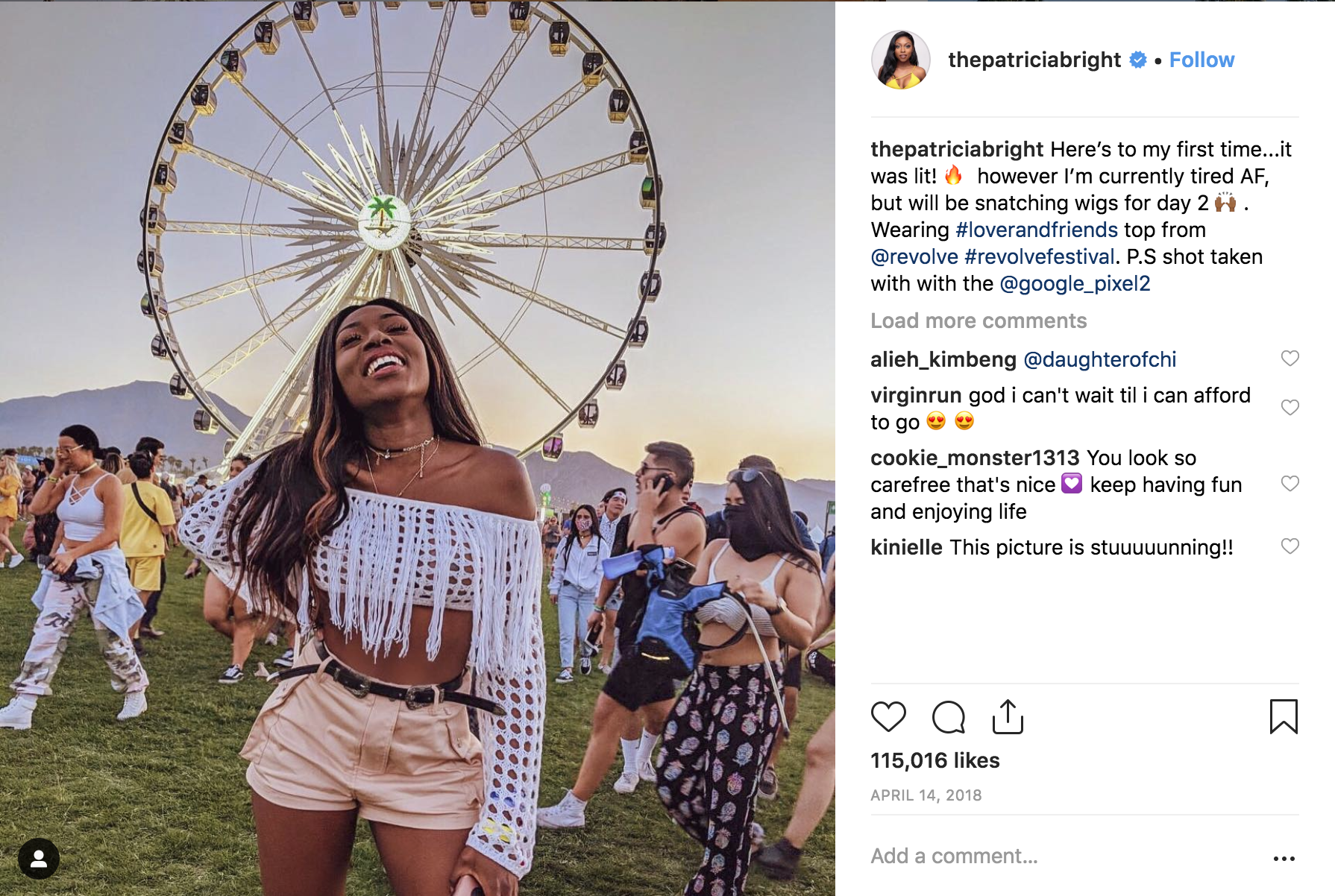 Instagram shopping
Social media selling is nothing new. With the myriad audience available on Instagram, it is no wonder the number of business profiles that spring up daily. Through brands and influencers, products and services can be advertised on a user's timeline. And with the tap of a button or by simply swiping up, a user or potential buyer can complete a sale in a matter of minutes without even leaving the app. In 2019, we expect to see more of this whether through stories, bio links, influencer marketing or sponsored ads. If you are (and you should) looking to drive more sales for your business and services, you will need to adopt any of these methods to deliver a seamless shopping experience for your followers. The key here is to make regular posts of hot-selling services and products. If you are making a regular post, use some trendy hashtags, add some description and include a direct link to your online store for the item. If your strategy is stories, add a link to the post and if you're running ads, remember to use the shop now button after carefully and accurately targeting your audience.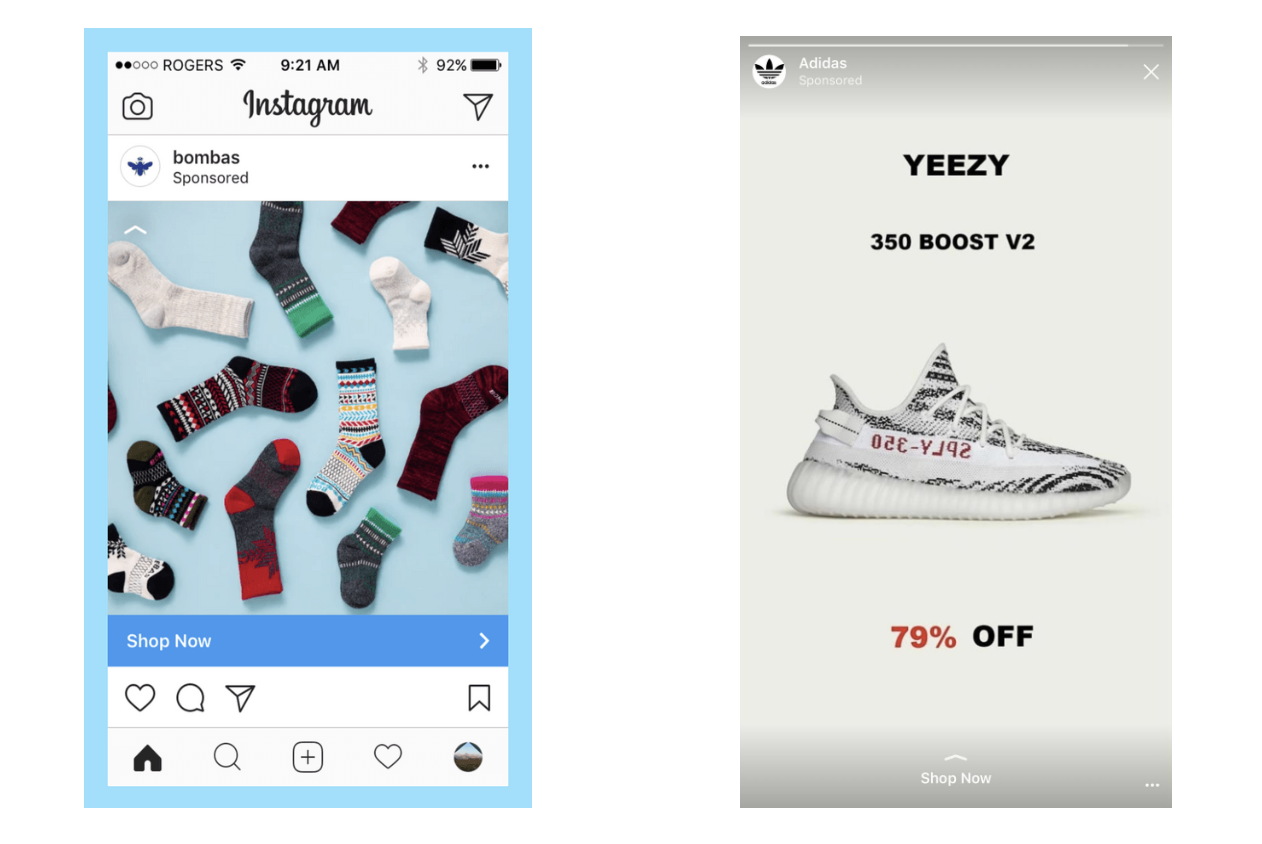 Shoppable posts are one of the most effective and easiest ways to sell on the gram. These features are available in static images and stores. These types of hacks are a must this year as Instagram has made the first step to converting your customer a click or swipe away. Shoppable posts like these opens your brands and products to potential customers, thereby, increasing your chances for sales and optimizing your marketing efforts.
Story ads
Since its introduction in August 2016, Instagram stories have become an integral part of the Instagram's experience. Fast-forward 15 months, Instagram stories had topped 300 million daily users. Instagram stories is a great way for advertisers and everyday users to communicate clear, emotive and concise messages to their peers and audiences. This year, we can expect even more engagement and conversions from Instagram stories. With story ads, you will need to ensure that your ad looks, sounds and feels great from design to content. The reward of this is higher ROI and conversion depending on what your performance indices are. You should also strive to create more interactive posts by adding stickers, emoji sliders, polls and questions.
Story highlights
Story highlights are typically Instagram stories that can be kept for longer than 24 hours. These highlights come in handy when looking to create an evergreen memory from your story or when you want to have a great reference point to something associated with your brand. Story highlights typically nestle below your profile summary on your Instagram page and can be watched over and over again by visitors even after 24 hours from when it was initially posted.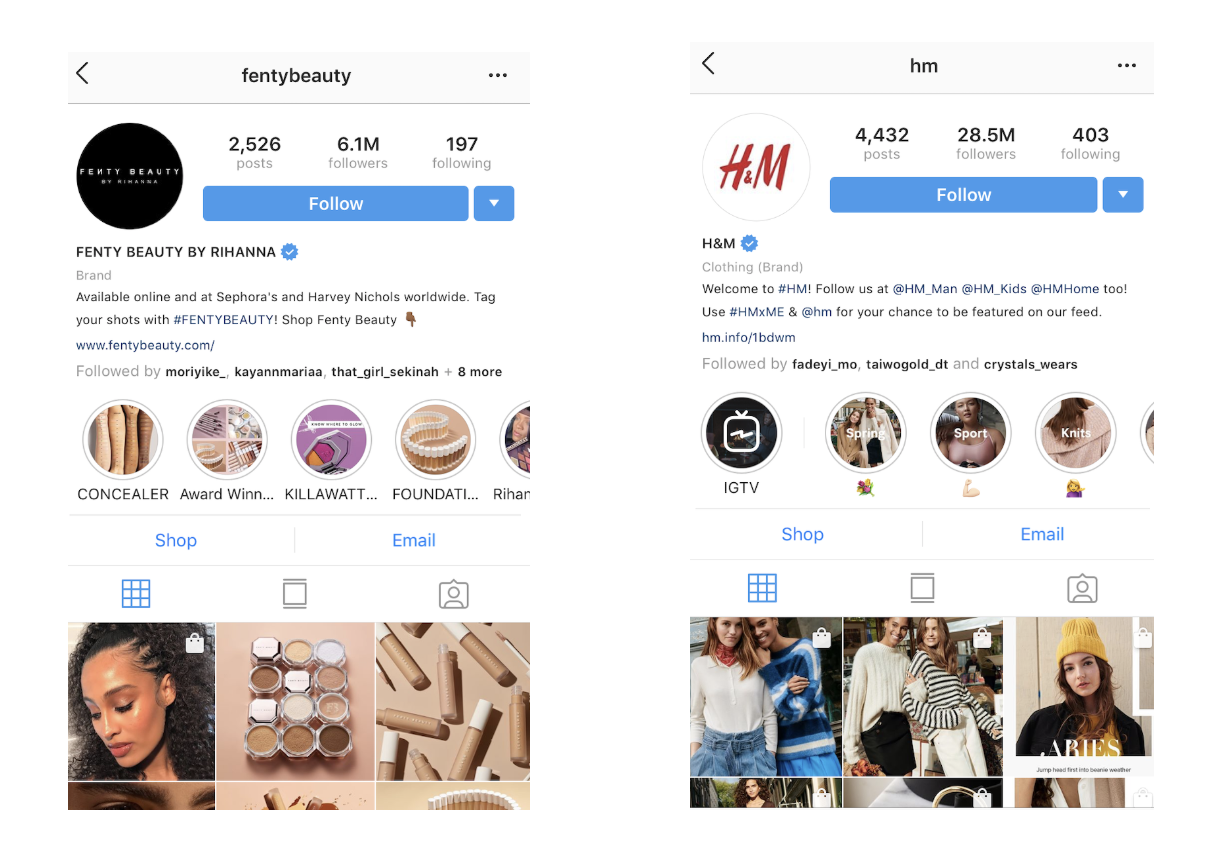 Many brands have perfected the art of using highlights to create memorable first impressions for profile visitors. H&M uses Instagram story highlights to curate and retain stories covering group collaborations, collections, knits, seasonal wears and much more. Fenty Beauty by Rihanna uses stories for tutorial highlights, tips, new releases and more. This is one you don't want to leave out of your Instagram story in 2019.
Improved content
Content is King. When it comes to Instagram, content doesn't mean having a lovely, lengthy description or blog post under your posts. Since Instagram is a visual platform, content here refers to videos and photos. Interaction also means the number of likes and comments each post get. In order to improve your content this year, here are a few things you should look into courtesy of Quintly:
Post more videos
According to Quintly, the most common format of posts on Instagram are images. However, there is a 21.2 percent more interaction with videos than images. This is because people are gradually and understandably interacting to videos that tell a story over still images. Video thus draws more engagement and is something to do more often in 2019.
Use emojis
Research from Quintly has also shown that using 1-3 emojis in your post can help to drive more interaction and engagement. Emojis help to humanize your brand, and as they are part of our everyday communication, studies have shown that they can help make a brand seem more human and approachable
Post more during weekends
Although 76.13 percent of posts are published during weekdays, Quintly discovered that there are 22.3 percent more interactions during the weekend than from Monday to Friday. This metric may be explained of the lack of work time during the weekend. Scheduling your posts during this time may yield more visibility for your brand and grow engagement. I guess every employer reading this post will surely be thrilled that no one across the globe indulges on Instagram while at work.
Grow your followers
All the strategies we have shared with you would be all but useless without having an appreciable number of followers for your brand. As you aim to grow and scale your business this year, strive to gain more followers. This can be achieved in a number of ways including running ads, recruiting influencers, embedding social media links on your website, cross marketing and more.
Lastly, you can and should build your brand with our Instagram likes or Instagram followers package. With our offerings at LikesForge, we avail you of qualitative packages to help you expand your business, reach and social status on Instagram this year.
Our Instagram followers and Instagram likes packages will deliver authentic likes and followers that will boost your reputation on Instagram, increase engagement and open a new revenue chain as you have new set of followers to pitch your business. Delivery can be structured daily, weekly or monthly. We will deliver real and authentic followers to your profile by running structured marketing efforts to incentivize audiences relevant to your business niche and help you hit the ground running this year.